All Santa Photos Ready for Downloading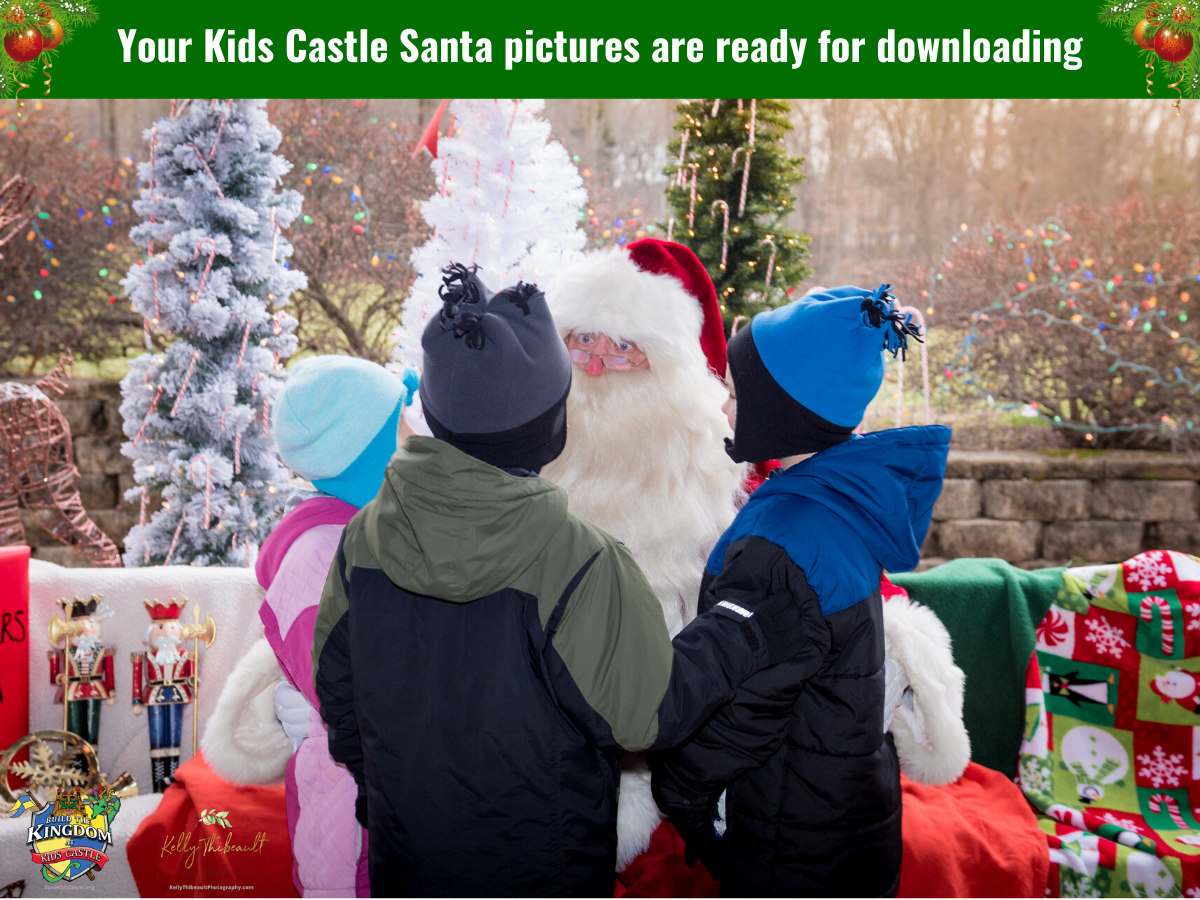 ALL SANTA PHOTOS ARE READY FOR DOWNLOADING!

Please follow the link you were given at the event, enter your email address, find your family photo and download it. Easy Peasy!
And Thank you so much to Kelly Thibeault Photography for all of the Wonderful pictures with Santa!
Enjoy everyone!
Santa visited children at Kids Castle
Santa was at Kids Castle on Sunday, December 15th from 11:00 a.m. to 12:30 p.m.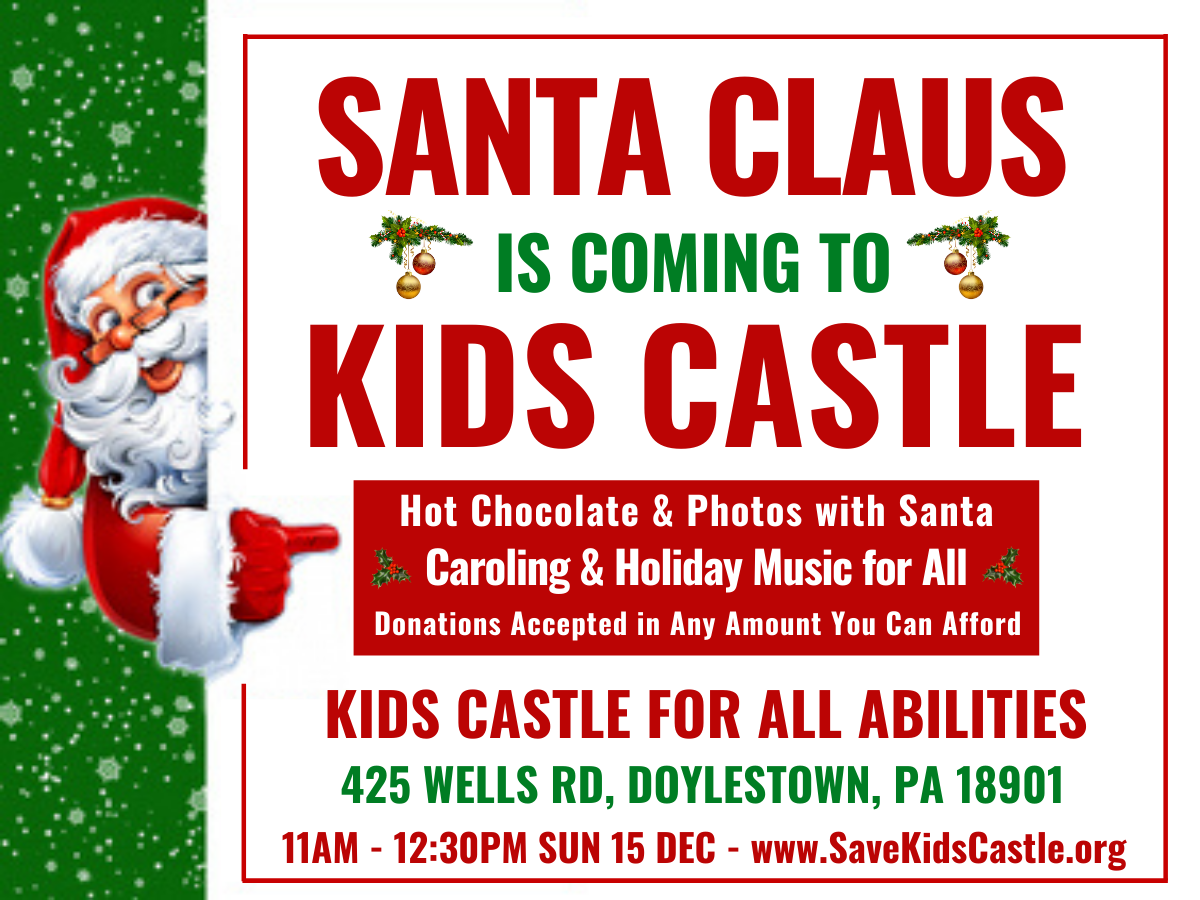 There was huge crowd of very happy people stood ready to greet Santa when he arrived at Kids Castle on Engine 19 from the Doylestown Fire Company. Additionally, Santa was escorted by the Doylestown Township Police to help him arrive safely.
There was caroling by the renowned CB West Choir, holiday music by Lobie Entertainment, Hot Cocoa provided by volunteers, delicious donuts donated by Factory Donuts Doylestown which they served to the crowd, and Free professional photos with Santa taken by Kelly Thibeault Photography who captured the moment masterfully.
Thank you to Cory Benhardt and Sarah Peters both Realtors from Keller Williams Doylestown. Cory and Sarah were gracious sponsors of our event who handed out Kids Castle flyers and spread the holiday cheer with the crowd.
More event updates to come. To stay connected, please go to our Kids Castle Facebook Page here >> Facebook: Santa at Kids Castle
To get help locating Kids Castle – you can find us on Google Maps here >> Map: Kids Castle for All Abilities
Thank You to Everyone involved!
Kids Castle for All Abilities is Now Open for Play
The Kids Castle playground is opens for play 7-days a week from dawn to dusk.
Find us on Google Maps here: https://goo.gl/maps/KkWtCtVYdhiRkijBA
Our beloved Kids Castle playground is in its 22nd year serving the public as a free community-built playground.
Volunteers rallied together and raised over $500,000 to totally upgrade and improve the entire playground for children of all abilities, includes kids with special needs.
That dream is now a reality! Kids Castle for All Abilities is open with play opportunities for all children. Everyone can participate at their own skill level and enjoy
One thing is certain, children come to Kids Castle year-round and the playground is filled with smiling faces month after month no matter what the temperature.
Our deepest thanks to all who have helped over the many years to make Kids Castle a special place where memories are made to last a lifetime. Thank you!
New Play Structures For Children Of All Abilities Coming To Kids Castle
The Kids Castle playground is temporarily closed to install new play structures for children of all abilities including kids with special needs.
The Park itself will remain open during the entire project.
There is no firm dates set yet reopening.
Please keep checking here for updates.
This temporary closure of Kids Castle in marks another step in the ongoing "Build the Kingdom" campaign, aimed at achieving inclusive play at the playground for children of all abilities including those of special needs.
The Friends of Kids Castle volunteers raised over $400,000 for these improvements through the generosity of individual donors, sponsors of play equipment, local businesses, grants from State and private organizations, and in-kind donations of goods and services.
During this temporary closure, new play structures will be installed that meet the needs of children with a variety of abilities at all ends of the spectrum to encourage and enable them to play with one another.
Children will be able to participate equally and independently at their own skill levels with their siblings, neighbors, caregivers, and friends. Play features are also included for children with visual impairment, hearing impairment, autism/SPD, mobility impairment, and cognitive disabilities.
In addition to these inclusive play upgrades, the temporary closure will also allow for improvements of the existing playground, including the installation of a new, more durable safety surfacing called Poured-in-Place that will also provide equal access to the playground for all.
The Kids Castle playground will remain closed until these upgrades are completed. The Park itself will remain open during the entire project.
The ongoing "Build the Kingdom" Capital Campaign Project would not be possible without the generous ongoing support of volunteers, donors, the Township, and the entire community.
Volunteers are still actively fundraising for additional upgrades to Kids Castle that are needed for children of all abilities.
Please go to the Donate Your Way Now section of our website to donate in any amount you can afford.
More updates on this Phase of the Build The Kingdom protect coming soon!
Thank you all 🙂
Our Story – Build the Kingdom at Kids Castle
It is our pleasure to introduce our goal to Build the Kingdom at Kids Castle where children of all ages and abilities can play together and have fun!
The plan is to add new play structures to the areas surrounding the Castle to create play environments that are usable by more kids, to the greatest extent possible.
In addition to good old-fashioned fun and fostering new friendships, these play areas will also address the developmental needs of the whole child by intentionally providing opportunities for physical, cognitive, communicative, social/emotional, and sensory development.
We have organized the area surrounding the Castle into four individual kingdoms, one of which contains equipment primarily for children under age 5.
Another contains one of our largest play pieces with ramps from one end to the other that twist and turn while elevating over four feet off the ground! It also includes multiple play areas along the way that are accessible to children of all ages, including those in a mobility device.
There are plenty more exciting updates and new play structures that we plan to add, which will be revealed shortly. And with the addition of poured-in-place rubberized surfacing throughout, Kids Castle and our Kingdom can be one of the largest fully accessible playgrounds in the area.
But in order to continue our progress we need your help. That help can come in the form of a donation as well as volunteering your time and expertise to help Build the Kingdom.
We are looking for individuals with Fundraising or Marketing experience who can be leaders in our organization and can help move the overall project forward.
As we progress with our plan, these volunteers will search out other individuals that they can help lead in a capital campaign to accomplish our goal to Build the Kingdom at Kids Castle.
Together we will Build the Kingdom. If everyone does a little, we can accomplish a lot!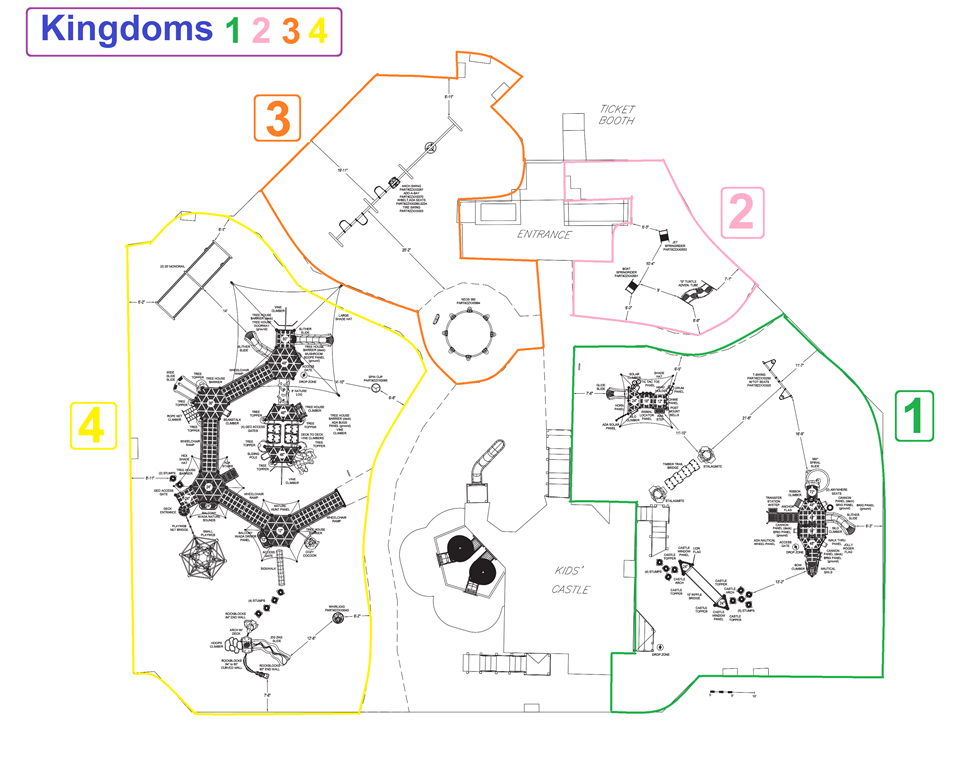 History
Just minutes from the county courthouse and historic district of downtown Doylestown, tucked away in the scenic hills of Central Park in the Township of Doylestown, rises a majestic and fantastic playground known as Kids Castle. Inspired by the castles of Henry Chapman Mercer, this nationally recognized and award-winning playground has attracted children locally and nationally since it was constructed in 1997.
However, having been constructed primarily with special pressure-treated wood and the best materials available at the time, a safety inspection performed in 2012 determined that the Castle and the surrounding play structures were reaching the end of their lifespan. The wear and tear had caused significant decay and damage and despite regular and thorough maintenance by the Doylestown Township staff, the structures needed immediate attention.
On May 7, 2012, an annual safety audit was conducted to assess the areas in need of attention and repair. A plan of action was formulated. The Friends of Kids Castle committee reconvened and decided to take immediate action and address the aging facility needs.
As part of the Phase I plan, the playground was closed for renovation in March 2013, volunteers in large numbers joined in to aid, money was raised and then Kids Castle reopen after all repairs were completed with a grand event on September 29, 2013 to the delight of more than two-thousand community members.
But there is still much work to be done. While the Castle is technically open and Phase I has been completed, the playground around the Castle had to be demolished due to the age and condition of play structures that were made of pressure-treated wood. As a result, new play equipment is needed.
Phase II – Build the Kingdom (Happening Now 2019)
It is our goal to create an inclusive, fully accessible playground so the kids of all ages and ability can have a Kingdom where all children can play together and have fun!
But we cannot do that without your help.
As of this writing we have already raised $400,000 as part of Phase II – Build the Kingdom and we have almost completed three of the four Kingdom areas and installed new play equipment.
But this progress cannot continue without your help!
Donate: While there will be many different ways to donate throughout Phase II – Build the Kingdom, offering your financial help now will go a very long way to getting us to our goal quicker. To donate, please click this link located here.
Volunteer: The Friends of Kids Castle committee is in need of help from the community in order to realize this goal. The start to finish time of this phases will depend on the success of the fundraising campaign and volunteer commitments. Volunteers with fundraising and marketing experience who can be leaders in our organization and that can help move the overall project forward are needed. If you have experience and can help in these areas, please click the volunteer link located here
History continued
The current Friends of Kids Castle community group was formed in the fall of 2012 to create a plan to save this iconic landmark – Kids Castle. After much discussion and input was taken from the community, a three-phase plan was adopted.
Phase I: Refurbish the Castle's interior, power wash and stain exterior, remove old equipment, and install new double racing slides. Launched November 2012. Total funds needed: $150,000. Completed!
This phase has already been completed. The work began in fall 2013. The $150,000 fundraising goal was met and Kids Castle was closed during the refurbishing period of this Phase.
With the help from local engineering firms, the site plan for the castle was approved. These plans required substantial reviews of the castle structure as well as grading of the surrounding land/playground in order to meet the latest building codes and safety requirements.
The castle has been power washed and stained, and the flooring replaced. All of the interior ladders were remade as an Eagle Scout project. Made of highly engineered wood, these ladders and the new steel cargo netting boxes in the floors of the castle were installed.
The large green slide was removed as well as all of the playground equipment that accessed the entrances to the castle. Concrete footings were poured for new playground equipment and decking (including a new seven-foot slide) that gives children lots of new fun ways to get in and out of the castle were installed.
Two new thirty-foot-high "racing twisty slides" have been install that replace the old single slide, which provide many years of fun to the community.
Because of safety reasons, all the surrounding playground equipment, except for the swing sets, were removed during this Phase.
All the artwork from the entire playground was removed, repainted and restored by volunteers, many schools and organizations in the community and local volunteer artists. Fully restored artwork was reapplied to the interior and exterior of the castle along with new artwork that was created.
There is a new Royal Family and a new mascot, Devlin the Dragon, that adorns the castle.
Phase I has been completed.
Phase II:  (Happening Now 2019)
Install new playground equipment surrounding Kids Castle. Estimated Fundraising Launch, Summer 2019. Total funds needed: $600,000
Due to safety concerns and new playground equipment requirements, all the surrounding playground equipment has already been removed.
New playground equipment will be installed with maintenance-free, nontoxic, and recycled materials. A Save Kids Castle design committee was established, which sought extensive input from community children as to their wants, wishes and needs for new play equipment. Over a year was spent consulting with certified experts in playground design and the play equipment industry. Many revisions were made to the plan until the best outcome was achieved. This plan includes installation of a combination of twenty-one play units that include two large play structures that have multiple areas of play. There will also be inclusive play equipment that can be used by all children with wheelchair enable access to play and fun!
Special Brick legacy areas will be created all along the perimeter of murals arts walkway.
A pour-in-place surface will replace all the mulch except for inside the castle.This surface is important because it allows for the inclusion of children of all abilities.
Total funds needed: $600,000
Phase III: Restrooms, pavilion, snack stand. Estimated Launch, 2021/2022. Total funds needed: $200,000
The final phase includes construction of nearby family-friendly bathrooms and a pavilion/snack stand. This is likely the number one feature requested by parents and sponsorship opportunities are available.
This phase, including the fundraising portion, will not begin until or after we complete Phase II.
Questions and Concerns
If you have questions about the timeline, or would like to know how you can help Build the Kingdom at Kids Castle, there are several online resources:
Facebook.com/groups/SaveKidsCastle: Additional information regarding the people and organizations committed to making Kids Castle remain a part of the community.
Twitter.com/SaveKidsCastle: Follow Kids Castle on Twitter for up-to-date information.
SaveKidsCastle@gmail.com: Contact us!
Please join and support our initiative. All donations of money, volunteer time, talent, and goods/services are welcomed. No gift is too big or too small to help Build the Kingdom at Kids Castle so all children can play together and have fun!
Our motto is "If everyone does a little, We can accomplish a lot." Please help us.
Historical Timeline:
Phase 2 – Build the Kingdom happening now 2019
Phase 1 – Save the Castle itself has been Completed
(The following is in past to present order)
October 1996
The Playground Committee (later to be named Friends of Kids Castle) was formed to begin coordinating the building of the original playground.
December 1996
Leather and Associates together with a group of local architects and our children's design team made up of kids ranging in age from eight to eighteen worked together with the Central Bucks School District and local private schools to do design assemblies to get ideas from children in the community. This group of designers then worked throughout the day to create the design now known as Kids Castle playground. A Town Hall Meeting was held in the evening to unveil the final design.
January 1997
Through an art contest, the playground was named Kids Castle by the children of Doylestown Township.
February 1997
The Children's Design Committee, local architects, township staff and the Kids Castle committee met with architect Bob Leathers of Leathers Associates, Ithaca, New York, to work on refining the initial playground design.
June 1997
Kids Castle opened on Sunday, June 22, 1997
May 2001
Kids Castle celebrated its 5th anniversary with the help of students, parents, and teachers from Groveland Elementary School. They added a fresh coat of paint to all artwork, sanded the rough wood edges, spread mulch and did minor repairs.
January–May 2007
To reignite the community spirit of Kids Castle, local elementary, middle and high school youth were challenged to create new fun and interactive educational art installations for the playground.
June 2007
A 10th anniversary celebration and ribbon-cutting ceremony was held on June 20, 2007, unveiling the new artwork decorating the playground.
May 2012
Annual Safety inspection prompted the current Save Kids Castle initiative.
August 2012
The Friends of Kids Castle Committee received approval from the Doylestown Township Board of Directors to pursue committee development and organization to start raising funds, awareness and to develop design ideas and ultimately a plan of action for the rebuilding and restoration of Kids Castle and the surrounding play structures.
The Save Kids Castle social media campaign launched. We currently have more than 1,200 members on our Facebook page and more than 140 followers on Twitter.
The First meeting to Save Kids Castle was officially held on August 22, 2012.
October 2012
A formal fundraising campaign was launched with an initial goal of raising $25,000 by December 31, 2012. If met, Byers' Choice Ltd would match the first $25,000.
December 2012
The Save Kids Castle Santa event was held on December 8, 2012 at Kids Castle to raise community awareness.
The December 31 goal of raising $25,000 was met and Byers' Choice Ltd. matched the amount bringing the total raised to $50,000
January 2013
Alchemy Open Studio and Therapeutic Art Center hosts first "Paint-It Day" where high school students volunteer to restore artwork
Cold Spring Elementary School formed the first Save Kids Castle Committee in the Central Bucks School District and hosted "Design Day" to brainstorm ideas for the new playground
February 2013
Art and Beautification Committee holds Art Pick-up Day to allow volunteers of all ages to pick up their artwork for restoration, and elementary school Paint-it Day
Save Kids Castle Committee held a community town hall meeting to unviel the three-phase action plan and grassroots fundraising campaign, including brick sales, lawn signs, and Cash for the Castle canisters
March 2013
Save Kids Castle t-shirt design contest for school students to showcase their artistic talents
Save Kids Castle spring egg hunt and wrap party was an enormous success and officially marked the temporary closing of the playground
April 2013
Small play structures surrounding Kids Castle removed and leave only the castle standing
Castle renovations begin
Middle School Paint-it Night
Elementary and middle school events at Highpoint-Philadelphia Sports Club campus
Earth Day Kids Castle benefit concert sponsored by Chalfont New Britian Business Alliance
May–June 2013
Castle restoration in full swing with floors, ladders, and netting replaced, playground equipment attached to the entrances and the double twisty slide is installed
Community castle party at Touch-a-Truck event
Casino Night
September 2013
After the successful completion of Phase I, Kids Castle Ribbon Cutting and Grand Reopening event is attended by more than two-thousand community members.
October 2013
Trick-or-Treat at Kids Castle event held for children ages pre-kindergarten through sixth grade
Doylestown Hospital donation of $10,000 to kick-off Phase II
January 2014
The Cornerstone Clubs holds Kids Castle fundraising event at Paul W. Kutz Elementary School with world-renowned rope skipping sensation Adrienn Banhegyi
Phase 1 – Save the Castle itself has been Completed!
Phase 2 – Build the Kingdom happening now 2019