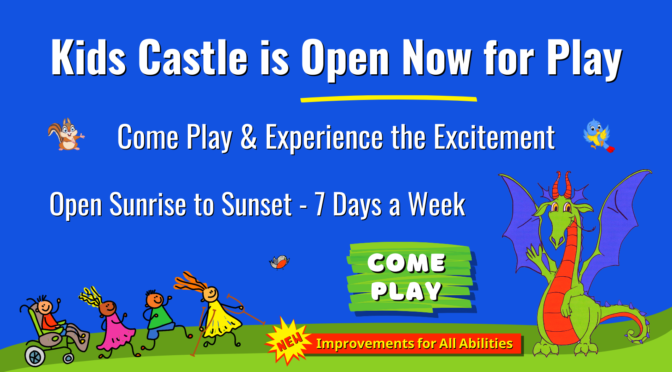 The Kids Castle playground has reopened for play with more improvements for Children of All Abilities.
The size and scope of this most recent project was extensive.
During this temporary closure, two new inclusive play areas were created that meet the needs of children with a variety of abilities at all ends of the spectrum to encourage and enable them to play with one another.
Through these upgrades, children are able to participate equally and independently at their own skill levels with their siblings, neighbors, caregivers, and friends.
Play features are also included for children with visual impairment, hearing impairment, autism/SPD, mobility impairment, and cognitive disabilities.
In addition to inclusive play upgrades, the size of each play area was also increased and Poured-in-Place (PIP) safety surfacing was installed.
This PIP safety surfacing helps provide equal access to all and ease in maneuverability for children and adults who use wheelchairs and other mobility devices.
There was also plenty improved unseen beneath the surface, which involved excavation & the installation of subsurface drainage pipes, rough grading, formwork & concrete pours, the installation of a stone subbase, retaining walls, and so much more.
We are fortunate that everyone involved with all our projects from the volunteers, construction workers, equipment vendors, and the Township staff & personnel are always 'Kid Focused First'.
Meaning, all play features are well thought out, safely installed and inspected prior to reopening, and work is completed competently in a timely manner with a high standard of professionalism.
The successful completion of this improvement project marks another step in the ongoing 'Build the Kingdom' campaign, aimed at achieving and expanding inclusive play at the playground for children of all abilities including those of special needs.
These improvements at Kids Castle would not be possible without the generous support of volunteers, donors, the Township, and the entire community.
The Friends of Kids Castle volunteers continue to actively fundraise for additional upgrades that are needed.
Please consider a donation in any amount you can afford through the Donate Your Way section of our website.
Help keep Kids Castle alive & well and continuing forward!