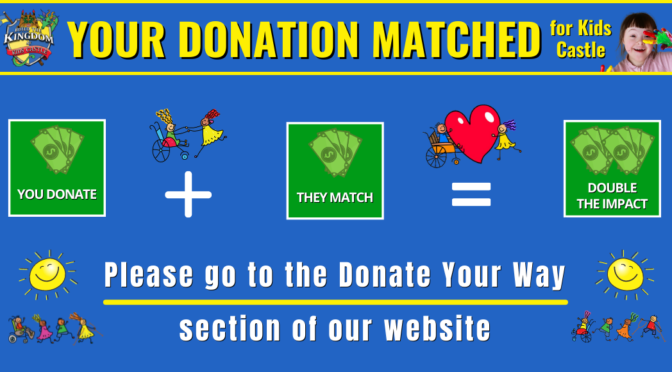 For a limited time only, we have a wonderful opportunity to Double your Donation.
Yes, that's right, for Every Dollar You Donate, it will be Matched – Dollar for Dollar up to $5,000!
It's so easy to do and no donation amount is too small.
Just make a donation in any amount you can afford 'Right Here' on our website – and it will be Doubled up to $5,000 Dollars.
For example, when you make a $50 donation on our 'Website', The Hubbard Family Charitable Trust will match your $50 and Kids Castle will receive $100… and so on – up to $5,000 Dollars!
You will Double your Impact and Double your Help just by donating right now!
Isn't that wonderful!
The Kids Castle playground has been serving the community for over 23-years and ongoing improvements are needed to keep it going.
Only through your support, will these improvements continue now and for generations to come.
These improvements include upgrades for children with sensory processing disorders, autism, and people of all ages using wheelchairs and other mobility devices.
What a great way to give back to the community and provide fun-filled opportunities for everyone!
We are overjoyed and extremely thankful that Jeanne & John Hubbard are generously providing this Matching Grant.
The money raised through Your teamwork with the Hubbards will go directly toward increasing the Inclusive play opportunities at Kids Castle for children of all abilities.
Wonderful memories are created every day at Kids Castle and cherished for lifetimes.
Every kid deserves a place to play and because of you, we will make it happen.
Please visit the Donate Your Way section of our website at SaveKidsCastle.com/Donate-Now.
Thank you for Doubling Your Donation right now and your ongoing support!